March 2017 ABC: JR'S ANGELS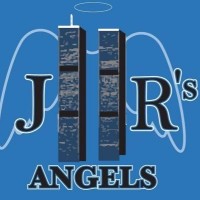 We all remember where we were on the morning of September 11, 2001. So many of us were saddened and horrified, but for those that had loved ones in the towers it was an unimaginable nightmare. One of those families lives right here in our community. John M. Rodak of Sewell was on the 104th floor of the South Tower at his place of work and perished as a result of the attack. After the first plane hit the North Tower, John had the chance to speak with his wife Joyce by cell phone three times before all became silent.
John left a loving wife and two young daughters. After the initial shock and grief of  losing a husband and the girls' father, Joyce was thrust into a heart wrenching time of loss, uncertainty and lifelong sadness. She was also overwhelmed with the outpouring of support and generosity not only from friends, but also the community. Through this support, Joyce and her daughters were able to find the strength and ability to focus on their healing and put their lives back together again. It also instilled a feeling of gratitude in Joyce for her community and the belief in human goodness. She made the commitment to herself that one day she would find a way to help and honor the community that was there for her when she needed it.
In 2011, Joyce, along with family and friends, established JR's Angels, an IRS 501 (c) to raise funds to go back into the community to assist families    experiencing financial hardship, provide academic scholarships, offer help with life essentials, and contribute to other non-profits both monetarily and through volunteering. Joyce and her team feel that by providing assistance to others and participating in community service projects throughout the year, they have been able to preserve and honor John's memory. And, they have made a positive impact in the community as a way to "pay it forward" for all the help Joyce and her family received in their time of need.
Her group raises funds through an annual bowling fundraiser which was started in 2012. This year the event will be held on Saturday, April 29th, 2017 from 5:30 pm to 8:30 pm at the Brunswick Bowl in Turnersville. Help is greatly appreciated from companies and individuals that can provide lane sponsorships, gift baskets, gift certificates, or monetary donations. And, you can help as well by attending the event. If you have any questions about the event, please contact JR's Angels at 856-256-9126. Also visit the web site at www.jrsangels.org or friend them on Facebook.
JR's Angels has touched the lives of hundreds of people and families to date through their financial gifts and volunteerism, and their dream is to continue to do so well into the future. The Heart Team is honored to work with them and call them partners and dear friends. We salute you.
By Paul Blackstock
---
Meet our Life Skills Instructors
At the end of February, we'll say goodbye to our friend Jeannie LaBuz who is retiring after 10 years as Director, People in Transition.  We welcome Nancy Howard as the incoming Director, PIT.   
Sign up for one of our Life Skills classes - you may meet one of these very knowledgeable instructors.  Some of our students have gone on to receive jobs, manage their budgets better, and even learn how to use coupons for huge savings on their grocery bill.  What will you learn today?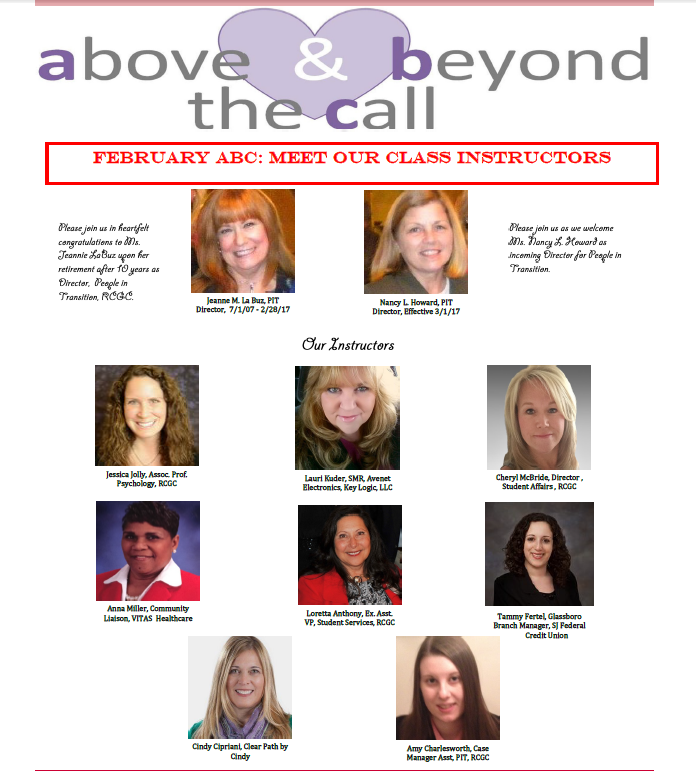 Do you know an outstanding individual? Someone who has gone "above and beyond" the call of duty by volunteering, fund raising, helping or "doing good" in Gloucester County?  We'd like to feature them in our monthly newsletter.
Contact Paul Blackstock to nominate someone or for more information.